It's hard to put into words the experience this tour has to offer. The beauty of the pristine, romantic landscape, the size of the fish, and the variety of fishing spots aren't enough! Rivers, lakes everywhere, just rush to the head of the traveler.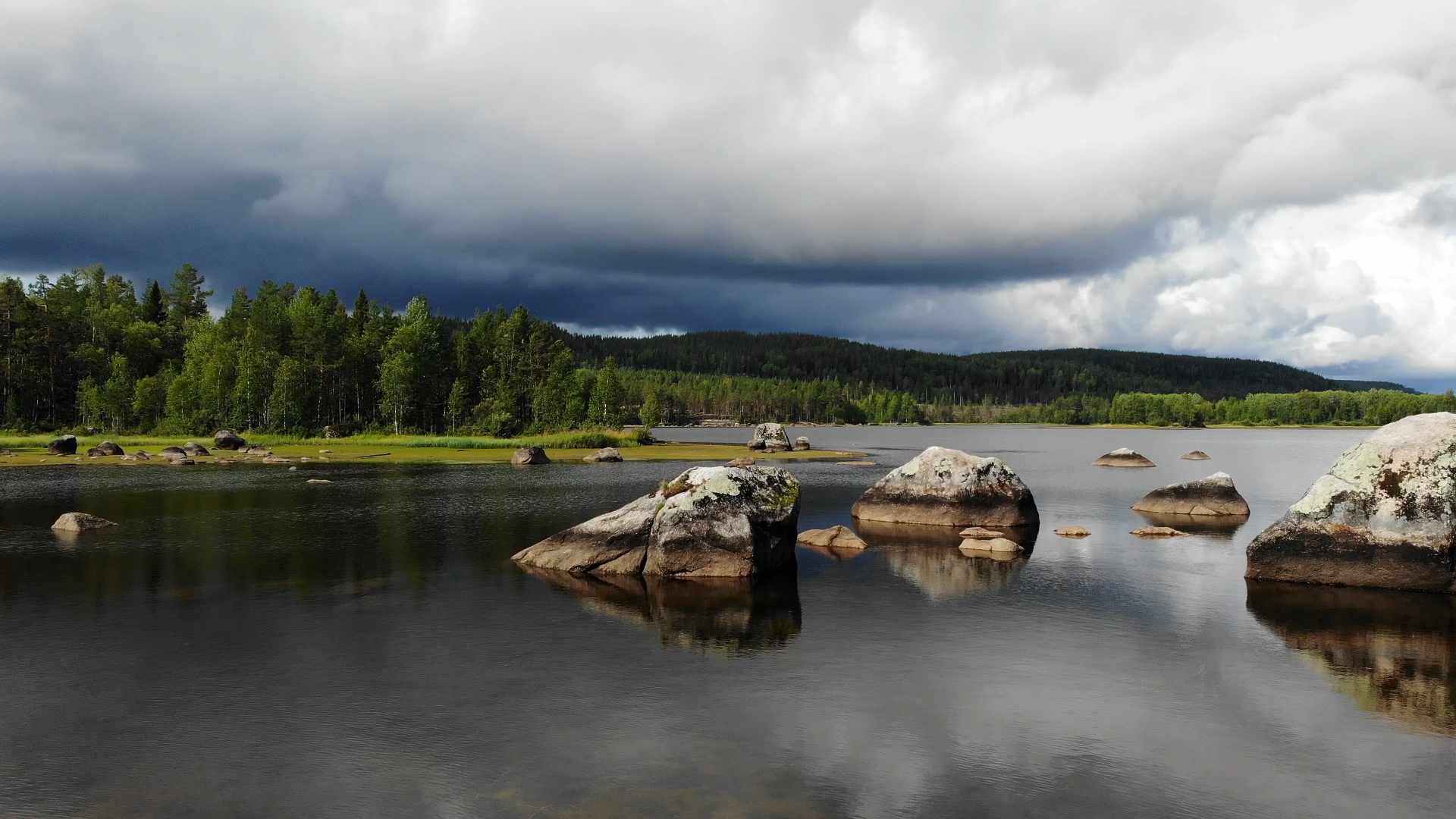 Our Lapland tour includes 6 full fishing days. Plus one day for departure and one day for return, so a total of 8 days must be counted.
Deadline for applications: February 28, 2023. Places will be filled in the order in which they apply, so if groups of friends apply, or if the date is important, you should apply as soon as possible. Individual dates are also possible if a minimum of 4 people apply together.
Travelling: Our location is around 200km south of the Arctic Circle, so the best way for travelling is the airplane. We will meet at the Umeå Airport with your group. The group of the current week must be arriving with the same plane, departure from Stockholm Arlanda Airport. From Umeå Airport we travel to our accommodation by rented cars, which is located 25 km from Lycksele, the "capital" of Swedish Lapland.

Tour description:

According to our current information, the trip will take place on Friday, we will be fishing from Saturday to Thursday and the next Friday morning you will go home. Arriving guests are received at the airport, the departing team is transported to the airport and then we drive to our accommodation. The drive is about 1.5 hours.
Transport:


We drive locally. With roughly a hundred fishing waters within reach, the car allows us to fish virtually wherever we want. The kayaks are taken out with a trailer so we are not tied to a particular water. The kayaks are pedal premium Hobie Outback kayaks. Each kayak is equipped with a sonar Humminbird Helix 5 DI GPS) and each kayak comes with a YakAttack BlackPak gearbox with extra rod holders, so up to 4 fishing rods can be taken out. Each kayak will have an extra YakAttack Omega fishing rod holder for trolling. We provide the necessary equipment for kayaks. We provide a life jacket, but anyone can bring their own vest. (cartridge vest can only be carried in checked baggage) We tried to anchor, but we caught a lot more fish without anchoring, and due to the rocky bottom we had to leave an anchor in the water, so we won't take out an anchor, it won't be needed.
Kayak fleet with fully rigged Hobie Outback kayaks: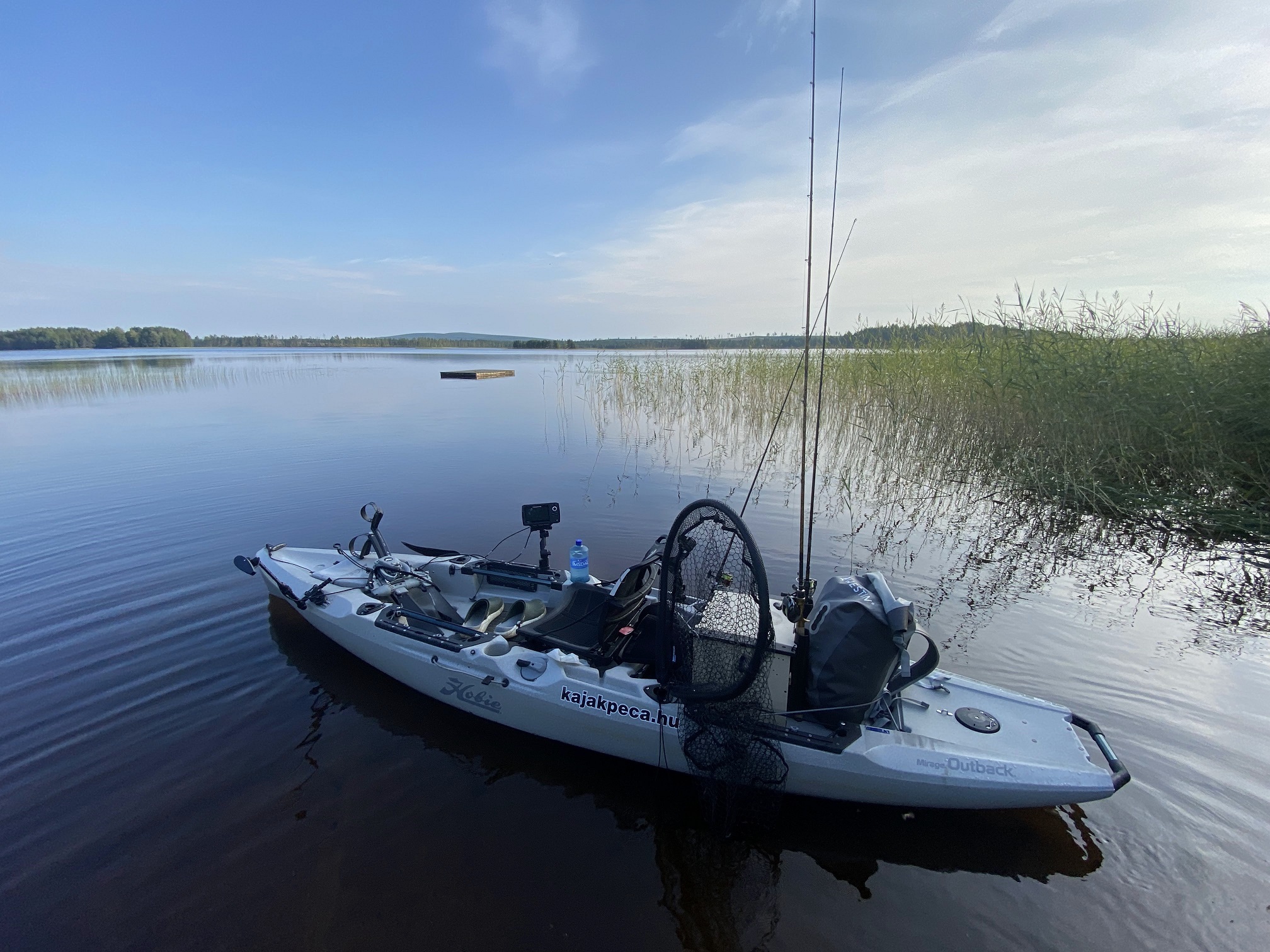 Accommodation:

The house has been renovated in a classic Swedish style by a lake. The four spacious bedrooms can comfortably accommodate a group of 6 people. There are a maximum of 2 guests in a room. The house is only ours, there will be no other groups during our stay, regardless of whether it can accommodate up to 12 people. There is a fully equipped kitchen, dining area and a huge terrace. 4 toilets, 4 showers guarantee that you will not have to wait for each other. Bed linen is provided, towels must be brought!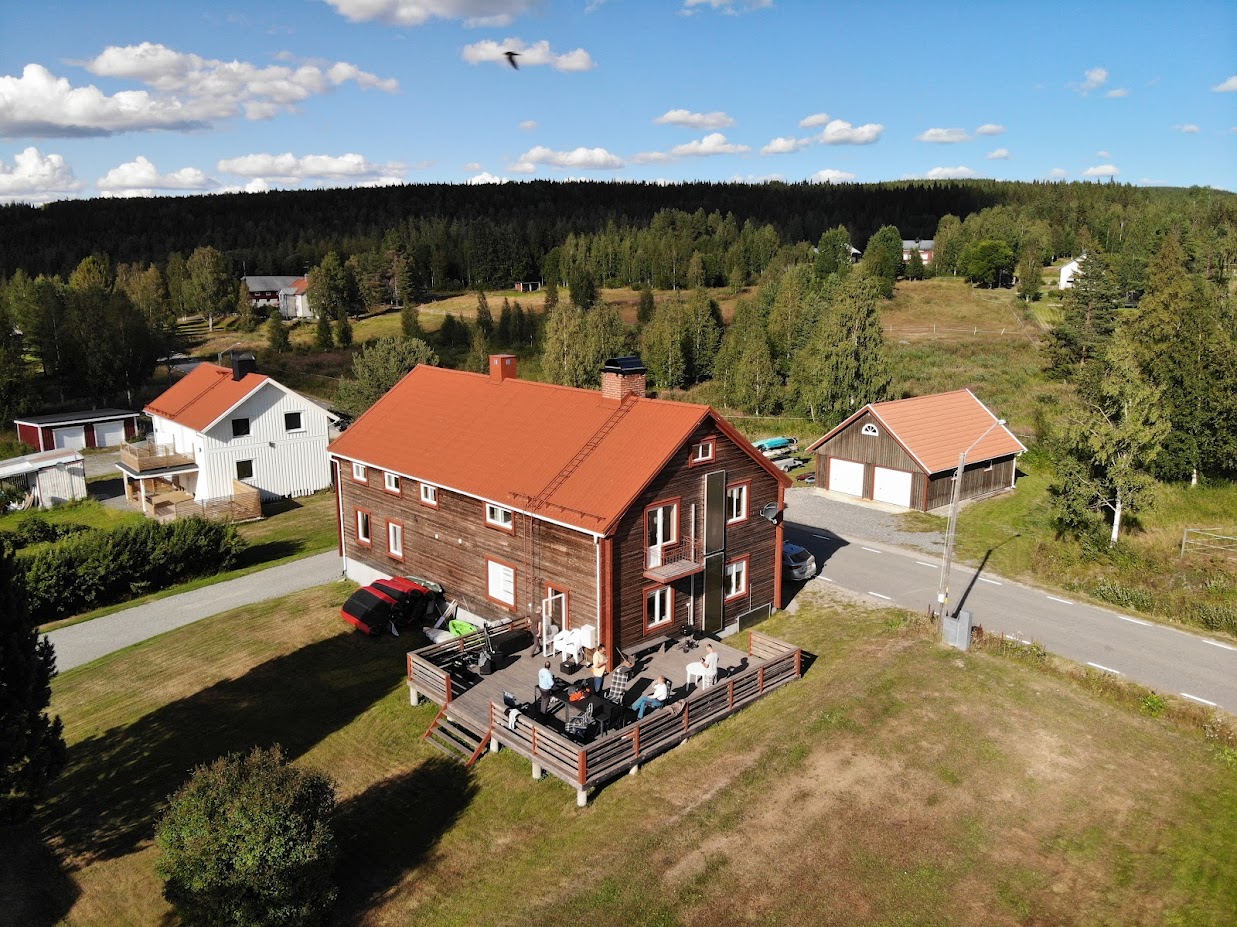 Foods:

We are completely self-sufficient during the tour. We start shopping on the day of arrival. We plan to go to the store twice, but we adapt to the needs of the group. It is possible to have breakfast together (scrambled eggs, sausages, etc.), dinner (fry of perch, etc.) So far, the meatball and potato salad with mayonnaise has come in handy. It is also possible to go to a restaurant, which is worth planning for the day when you go home from fishing. We adapt to the needs of the team.
Weather:

In August, daytime temperatures are around 18 degrees. smaller and larger rains can be expected at any time, so this should be taken into account when making clothes. Mosquitoes are only active at dawn or dusk, even in places near the water or in lush vegetation. no invasion is expected. July is a little warmer and drier. In terms of clothing, it is essential to make rain-resistant clothing, preferably one that does not absorb water in the event of a water ingress. Kayaks almost always get out of the water, so you need to be waterproof to at least the height of your rubber boots. There are no classically built falcon tracks, waterproofing places, so you have to get into the kayak from the shallow water of the coast. The ideal outfit is the dry pants with neoprene boots.
Fishing:

Our main target fish are pike and perch, but it is also possible to fish for salmon in August. Swedish waters are very diverse. We can fish on rivers and lakes. Everything from the shallow, leafy parts of the seaweed to the rocky riverbeds to depths of up to 10-15 meters can be found, so we will have a very varied fishing possibilities. We select the needs of the team when selecting the fishing water for a given day. There are proven waters, but it is also possible to fish in new waters that are unknown to us so far, the discovery of which is always an extra experience. Depending on the distance to the water, we usually leave the house at 7 am and fish until around 6 pm. This means about 8-9 hours spent on water. Of course, anyone who wants to have lunch during the day can safely go ashore and dine on wild blueberries for dessert. We use two cars to travel, so in addition to me, we will need one more person from the team to drive the second car. It is not necessary to lead the same thing all the way through, it is also a matter of discussion. Everyone gets a VHF radio on the tours, so communication on the water is also availible within a 3-4km range.
Fishing pressure here is extremely low in the waters. On the last trip, the two groups met with other anglers on the water only once during the 12 fishing days. The exception to this is the salmon river section, where in the short section before the roar, the local forces also trolled for salmon, but those two boats didn't bother us at all, as they also went into the swings with the engines we didn't want.
Safety is always a priority on the trip, so if someone is unsuitable for kayaking (alcohol, drugs) or endangers others with their behavior, they will be excluded from fishing that day! It is mandatory to wear a life jacket / swimming vest in the kayak! If there is such an extraordinary weather (this has happened once before, when we had such a heavy thunderstorm for 4 hours, along with a strong wind that even the best kayak clothes permeated the water, and since everyone was soaking and we didn't want to catch a cold, we finished that day fishing.) which necessitates the cessation of fishing on that day, it shall be accepted by all participants.
Pike fishing:

There is a wide variety of opportunities for pike fishing. One method is classic spinning. The pike here are accustomed to large-scale food, so they attack 18-25-cm rubber baits without any problems (Strike Pro PigShad, PigShad Junior, Westin Shad Teez, Westin BullTeez Swartzonker McRubber in basically natural colors). They work great for throwing shallower, rocky shores, reefs, and seaweed fields. They can also be fished in deeper waters, but this requires weighting, which can weigh up to 20-25 grams. The 5-6 cm deep runner crank wobblers worked well on the suddenly deepening shorelines. In the shallow coastal weeds, the minnow wobblers around 10 cm also worked well in the pre-reed sections. We caught more than a meter of pike during vertical perch fishing with vertical lures and 10-12 cm rubber baits. With these, we were able to catch the more inactive pike lying on the bottom around 10 meters deep. Trolling works very effectively, for which the above-mentioned large rubber fish with weights of 20-30 grams, depending on the water depth, and large wobblers, such as Westin Jätte, are the most ideal. And, of course, there are waters in our ravine where there are excellent for frogbait fishing, like topwater pumpkin leaf fields. The average size of pike is smaller, although this method also managed to catch pike close to a meter. In any case, it is a huge experience, as the pike often takes the frogbait at the pumpkin leaf fields jumping out of the water. This type of fishing should not be missed either. In terms of fishing rods, it is worth making a big bait rod for big rubber baits, with an upper casting weight of 100-140 grams depending on the bait size, and a medium 50-60 grams upper casting weight rod for wobblers, frogs, spinner baits, vertical baits.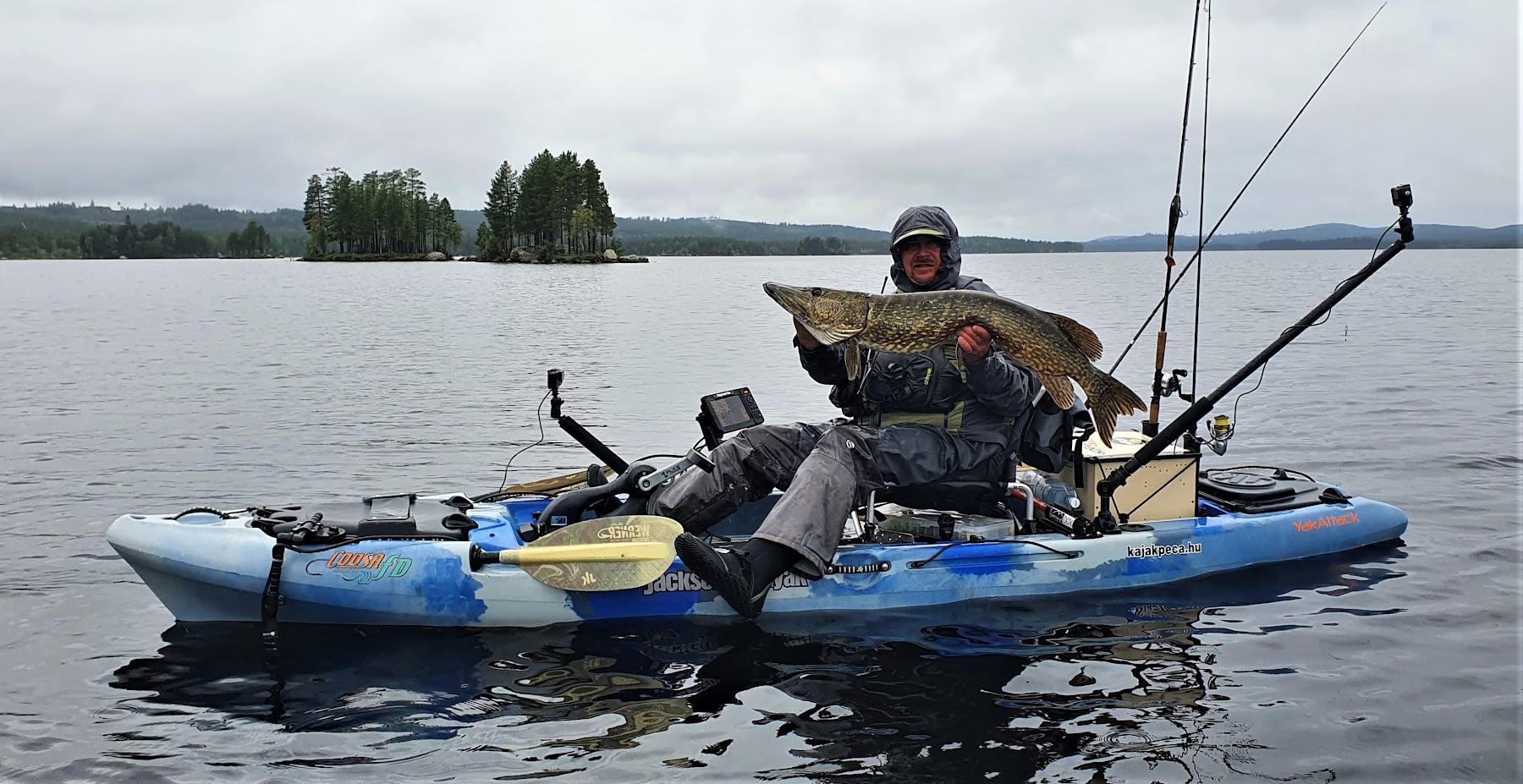 Perch fishing:

The perch stock is unthinkable. The task here is to select larger individuals, so the main task is how do we avoid perch is smaller than 30 centimeters? Perch can be found in almost every layer of water, so the method of fishing for them is also varied. Wobblers, both monnow and cranks, work well in shallow, 1-2-meter deep water. Rubber bait work well, twisters with smaller jigheads, vertical lures and tailspinners are also great perch baits. Larger perches regularly attack closed 18-20 cm rubber baits as well as 5-6 cm deep running cranks. In deeper water, vertical lures and 10-12-cm jigs with larger jigheads of 15-20 grams are good. The most effective method is to search the school of baifish around the edges with the sonar in the deep waters (6-10 meters) and to lift the jigs with the large jig head standing upright. The school of fish consists of either bait fish or smaller perch, surrounded by large perch and often pike. So we managed to catch more 40+ cm perch (48 cm was the biggest), plenty of 30-40 cm perch. Not even a huge pike came out with this method, so you need a rod strong enough (around 7-28gr casting weight weight).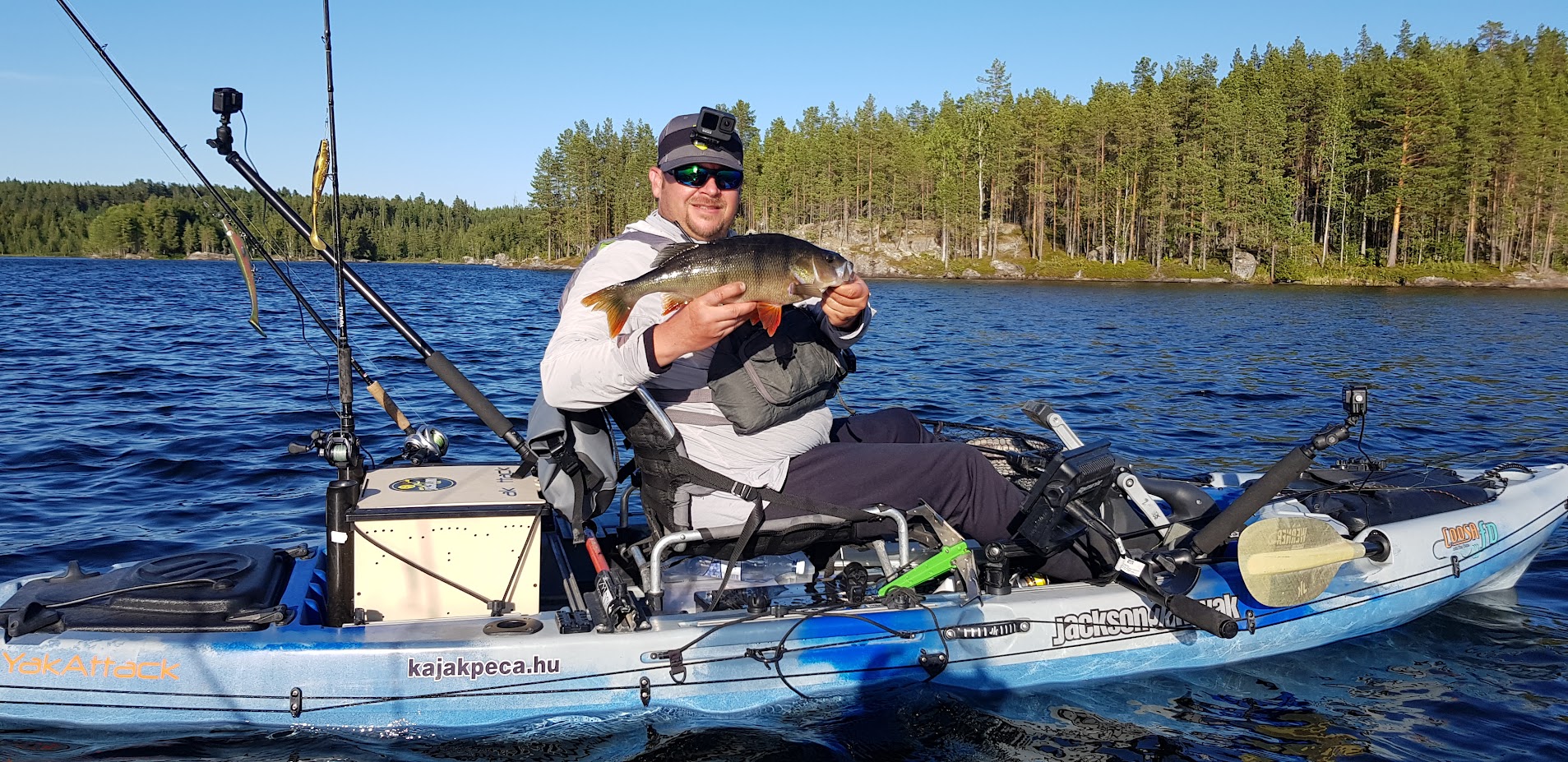 Salmon, grayling, trout:

In Sweden, most rivers are divided by hydroelectric power plants and associated dams, but there is a river nearby that is completely wild, there are no dams and power plants on it, so the salmon can swim up. There is a section on it that can be safely fished by kayak. The salmon season begins in August. It takes a lot of luck to catch them, we haven't been able to catch them so far, but since you can catch pike, perch grayling and trout on it, not to mention the big pike (we've also caught more than 100 cm of pike here). Salmon are basically trolled with 10-12 cm minnow with running depth of1-2 meter wobblers with strong gear. (the big bait fishing fishing rod for pike is good) We used smaller circles (around 10 grams) and smaller vertical lures and tailspinners for perch, greyling and trout. This is the only water where the kayaks are not taken out of the water where we get in, because it is not possible to move up very much in some sections due to the drift.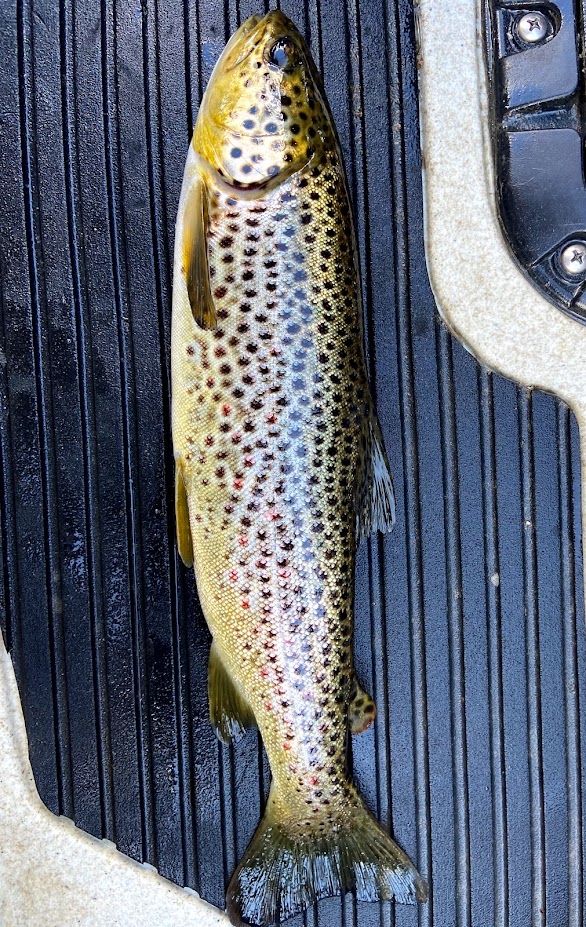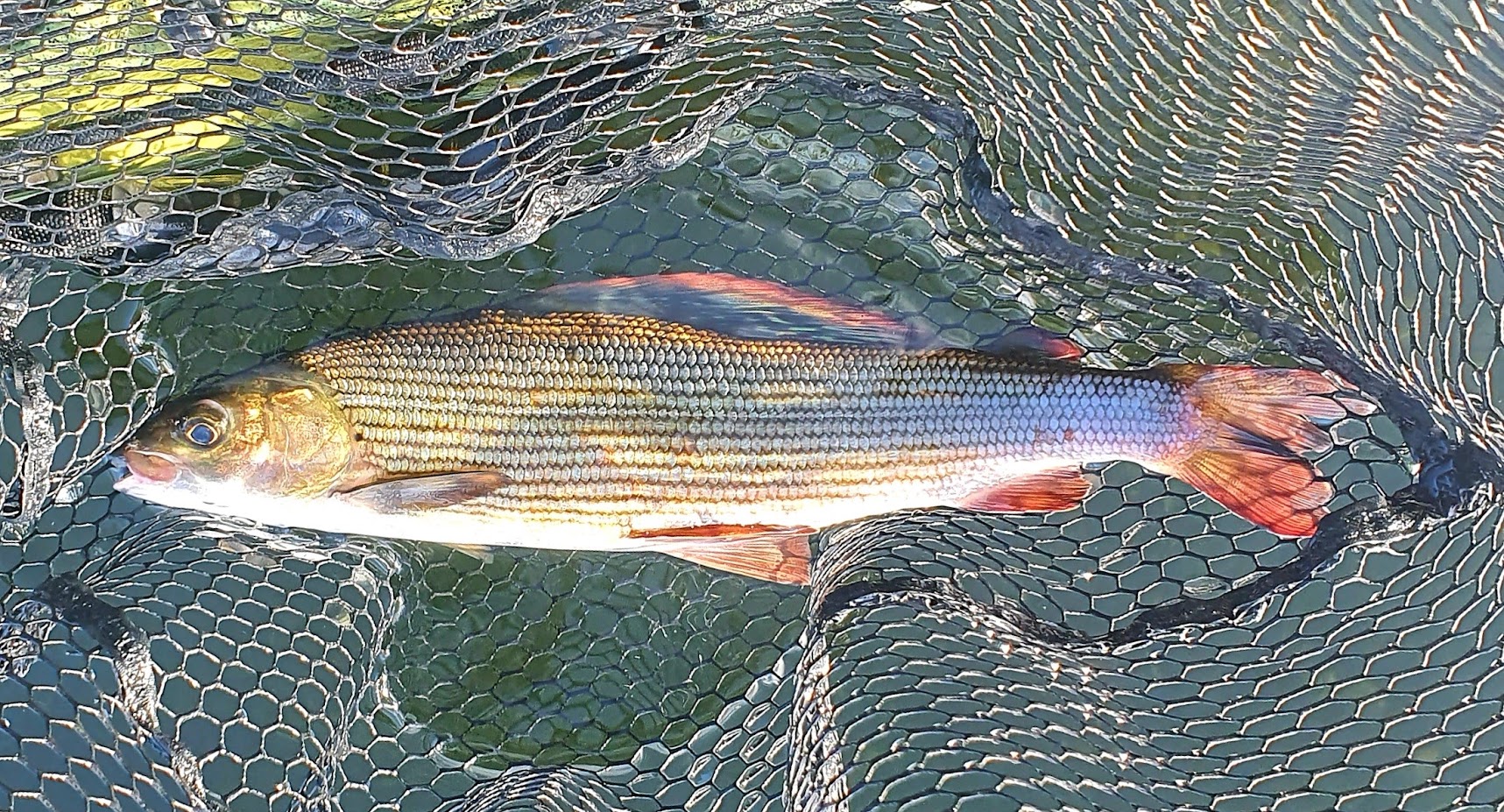 Fee:

€ 1100 per person, of which € 400 is payable at the application, the rest in cash at the arrival. As all bookings must be pre-arranged, this amount will not be refunded in case of cancellation.

The participation fee includes: accommodation, car rental, trailer rental, kayak rental (paddles, life jacket, sonar, battery, VHF radio),

The participation fee does not include: travel (flight ticket) meals, drinks, car fuel costs. fishing licences 15 € / day. If you want to fish from a dinghy instead of a kayak, there is a surcharge of € 300/boat/week. A 360cm long fishing boat equipped with a 4-stroke petrol engine, perfect for two people. If you need more than one boat, you will need to rent an extra trailer. It is about 150 € / week.
Tour Dates: The occupancy is for information only!
| | |
| --- | --- |
| | |
| 2023.07.21-2023.07.28 | 5 free places |
| 2023.07.28-2023.08.04 | fully booked |
| 2023.08.04-2023.08.14 extra trip 9 fishing days | fully booked |
| 2023.08.18-2023.08.25 | 3 free places |
| 2023.08.25-2023.09.01. | fully booked |
| 2023.09.01-2023.09.08. | 5 free places |
| | |
Places are constantly filling up so sign up as soon as possible!
Additional dates are available on request. If you have any question, do not hesitate to contact me!
You can apply and inquire at the telephone number +36305159393 and via the email address info@kajakpeca.hu or via the CONTACT menu item on the website.
Perch fishing 2021:
Full video of the trip 2019:
Big perches from 2019 trip:
Trailer video 2019: